At Mattress King Chicago, for over 35 years has been servicing Chicago selling only the finest new mattress of any size. We 
accept all phone orders, with same day delivery of items in stock. 
CALL TODAY AND SAVE! (773)743-5120
FOR AFTER HOURS OR TEXT 773-977-5184
FREE CURBSIDE DELIVERY UP TO 4 MILES FROM STORE! 
WE MAKE ANY SIZE MATTRESS!
NO ONE SELLS FOR LESS
WE ONLY SELL NEW MATTRESSES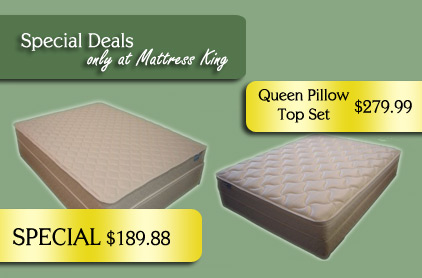 2952 W. Devon Ave. Chicago IL, 60659 
(773) 743-5120 - (773) 997-5184 (Accepts text messaging) 
BACK TO SCHOOL SPECIALS!!
QUEEN  PILLOW TOP SET 
$379.88  REG. $499.88 
OR 
PILLOW TOP SET WITH MEMORY FOAM AND
FREE FRAME  $599.88 REG $799.88
ENGLANDER 
QUEEN SETS $299.88
EVERYTHING MUST GO! 
WE NEED TO MAKE ROOM!
2952 W. Devon Ave. Chicago IL, 60659 
(773) 743-5120 - (773) 997-5184 (Accepts text messaging)